Guilty in a court of law!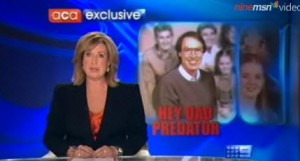 Well, it's been a very long time coming, but the jury has found Robert guilty on 10 counts.
It's been a very difficult few years, and the trial was very emotionally draining. I started on Friday afternoon and finished on Wednesday afternoon on the stand. Even though I only had the one charge, I guess his lawyer focused on me, since I was the one who brought the situation public. In the end, it was worth it, because now he's in prison, awaiting his sentencing.
I'd like to take a moment to thank everyone involved in the case. The members of Strike Force Ruskin, the DPPs office, the wonderful women who volunteer their time at the VWCCS. I'd like to thank the jury who really paid attention during the case, and asked questions, before making a decision.
I want to thank Ben and Simone for backing me up. I know the last four years have been hard for you, and now that it's over, I hope the industry rewards you for being good people. Also to the other cast and crew who took the stand to give evidence.
I'd like to thank Steve Jackson and Woman's Day for doing the original article, and I'm forever grateful to Tracy Grimshaw and Ben McCormack for all your investigative journalism and keeping with the story for four years. Also to all the production team, who worked so hard behind the scenes.
I know that my case was not unique; there are others out there in the industry who have been affected, and other predators are being protected. Hopefully though, now more people will have the courage to speak up. Don't stay silent. You never know how many other people are in the same situation, and you also don't know how many have already been to the police.
It's been a long hard journey, but in the end, it was worth it.