Thanksgiving 2014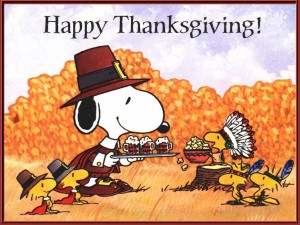 Since living in America, I have come to love Thanksgiving. It's a non religious holiday, so it's the one holiday that every single American celebrates. It's a day when everyone gets together, has a huge meal, and just enjoys the day. There's no gifts, no cards, no commercialism. – That comes the next day, on Black Friday. I really love that there's a day where everyone just gets together, and thinks about all the things that they're grateful for.
I'm Thankful for a lot this year. After four years of dealing with the Hey Dad thing, it's finally over. I've had a few months to decompress, and put things in perspective. It was a long process, and I know it was important, but I am very glad it's over. I'm thankful that several more people in the industry have been outed, and more importantly, they're not being covered up or apologized for. It seems like we're really starting to make a change towards protecting kids.
I'm thankful for my job. I've been on my project for almost three years now. I work with a great team, and my job really is just gravy. It's easy to do, I have good hours, I get long weekends, and I really am happy there.
We finally sold our house a couple of months ago. My work is about 2.5 hrs outside of San Antonio, and I had been living down there during the week, and Matt and I would see each other on weekends. Matt has a fabulous job, and he was working from home. So we decided to sell the house, get a bigger RV, and be together. The house sold, and now we're together all the time. I've always wanted to try tiny house living, and the RV is pretty close to that. Downsizing meant no more lawn to mow,  massive reduction in bills, and a stress free living environment. We even like our neighbours!
I've gotten to travel a bunch this year. So much that I earned Platinum status on American Airlines! I had two trips to Australia, which were definitely not vacations, but I've taken a couple trips to Florida and LA. My brother came over to the US, and I met him down in Ft Lauderdale. I've been to Tampa a couple times with Matt, and will go back again next month. We've started taking the dog with us. It's nice to be in a position where we can afford to take her with us. Yes, we're that couple that takes their dog everywhere. We don't have kids, and she is our baby. She's also getting old, and we don't like to leave her with other people. Thankfully, places in Florida are super dog friendly, so it's not a big deal. She travels really well. She gets to sit under my feet on the plane, and isn't bothered by it. We've planned a big trip to Europe next year. One of my BFFs is turning 30 and wanted to celebrate in Greece. So we planned a trip there, and also to Italy to visit Giulia, who was our exchange student years ago. I'm super excited about that trip, even though it's almost 10 months away.
I'm Thankful for my friends and family. I have the most amazing mother and father in law. They love me like I was their own. I'm at their house right now as I type this. They're the most down to earth people, who don't have a mean bone in their body. They're kind of sad we've moved so far away, but we meet them in the middle at our ranch, where we've both set up a camp.
I'm thankful for my friends, especially the ones who have really been there for me, and put up with my moods while dealing with all the court BS. I've reconnected with some old friends from school, and made some amazing new ones. I'm especially Thankful for all the people at A Minor Consideration. They have been my rock through the whole court thing.
I'm Thankful for the past year, and I'm Thankful that the year ahead looks so bright. I've got some interesting things happening next year, including another trip back to Australia. I'll get to tell y'all more about that soon.
I hope everyone else in the US has an awesome Turkey Day, and that you all have a lot to be Thankful this year. For those in Oz and elsewhere, you don't need a special day to be Thankful, but I hope you do have much to be Thankful for. If you don't, don't worry, it'll pass. Bad times just make us more thankful in the good times.