I'm not sure what I was dreaming about last night, but when I woke up, my mind was caught up in that last day of court. The one where things didn't go so well, and I knew that all of the country would know it. I was so distraught that the detectives called me later that evening to make sure I was ok. They were right to call. I was staring at a packet of pills.
It's not often that I think about that day anymore. Since we won the case, that day has faded. With writing my book, it eased a little more. I got a little anxious around the high court appeal, but since Robert was told he'd had to finish out his sentence, I've been pretty damn happy.
I enjoy doing work campaigning for other victim's rights. I enjoy messaging with people and answering their questions about the process of going to court, and the barrage of emotions they can expect. I like that I can switch off when I need to take a rest day from it all. Basically, I've been pretty great the last couple of years.
Then this week, we've seen the whole Kavanaugh/Ford saga play out. Living in the US, it's pretty hard NOT to see what's going on. I actually watched the proceedings live, because I wanted to be able to watch it myself, and make my own opinion on the matter, and not just listen to all the political propaganda and the bickering back and forth between my friends on FaceBook.
Let's face it. This has truly divided the nation. When I first moved to the US, Democrats and Republicans were on opposite sides of the fence, but they still met in the middle for a BBQ. These days, there's no friendly fun. They're too busy throwing grenades over those fences.
I'm a centrist. I think both parties have good and bad. I think both make good points and terrible points. I don't vote party lines, and I don't swallow what one side says as gospel. I enjoy sitting right in the middle and looking critically at BOTH sides, and making up my own mind on an issue. I even enjoy playing devils advocate on many posts, asking people questions about why they think things, or ask them to look at things from the other side.
I think even if you do lean towards one party, it's critical to still look at an issue and actually think about it. Just blindly following something because your friends do, or because the media tells you that's the way it is doesn't seem smart to me. The media used to tell us the news, and they also had an opinion column. These days, every journalists has an opinion, and wants to share it. I think it's important to watch both CNN and Fox News, so you can see BOTH sides, and then know the truth is probably somewhere in between.
This brings me back to the SCOTUS hearing.
The Supreme Court Justice job is for life. One appointed, it's a forever thing. Now, once on the Supreme Court bench, a judge is supposed to be impartial. They're not supposed to lean Republican or Democrat, but people's upbringing will shape them, and they'll lean more conservative or liberal. Democrats are terrified that we'll get in a judge who get's rid of Roe v Wade, and I'm not sure what Republicans are scared of. Gay Marriage is already legal, and they haven't made much of a fuss about anything else.
Trump selected a guy called Kavanaugh. Everyone hates Trump, and so it wasn't a surprise that people were also going to hate his nomination. It's also not a surprise that the Democrats were going to delay the nomination, hoping to hold off till after the election in November, hoping to get one of their own judges in there instead.
I honestly don't understand why we need a Democrat or Republican judge when they're supposed to be impartial, but whatevs.
I'm also not surprised someone in politics had some dodgy history. Let's face it, most politicians are a little slimy, and we've all watched movies about privileged white kids in the 1980's and know they're not angels. They're not all bad, but it's shouldn't be a surprise that high school kids got drunk and partied and took shit too far. If we're honest, we've all got some skeletons in our closet that we probably didn't write in our diary….
I am also not surprised that a woman was assaulted and didn't report it at the time. I am not surprised by holes in a memory, or the ability to recall some things with laser focus and be total lost on other things. That's how traumatic memories work. I am not surprised that other kids at a party that weren't assaulted don't remember the party. It was just another party to them. Your brain doesn't hold on to insignificant events the same way it does for something like survival.
What I am surprised at, but probably shouldn't be after my own dealings with the public, is the amount of hate being spewed at both sides. I had hoped that the #metoo movement might have taught both sides a few things, but it seems like it's actually dividing people even more.
The Liberal side is screaming that they believe her. They don't need proof, or witnesses, or to even hear her story. She said it, so it must be true.
The Republican side are saying she's a liar. A crisis actor paid off by the Clintons. Her only job is to derail the SCOTUS nomination, and that the Libs don't care if they destroy a man, as long as he doesn't get the job.
Both sides are fighting back and forth, screaming at each other. All the people who associate with the party are fighting on Facebook and Twitter, telling people on the other side they're horrible human beings, or they're stupid, or wrong.
Meanwhile, I decided to just sit back and watch. I watched both sides attack each other. Then I watched both parties give their testimony at the hearing. I watched and listened.
I saw her tell her story. I saw both sides ask her questions. I saw them try to trip her up. I saw them try to rally behind her. I saw her try to answer questions while knowing the whole world was watching her, and I tried not to let my own memories of being questioned influence my judgement.
I watched him get in the chair. I saw his anger and emotion. I tried to think whether he was being hateful and defensive, or whether he was innocent and terrified and angry that he was being accused of something for a political agenda.
I watched as people on social media who had been victims assert she was either lying because she was too calm, or that they believed her because they had also been a victim.
I saw people claim he was too angry, and therefor was guilty. Others said he was angry because he was being falsely accused.
I watched as politicians on both sides claim that this wasn't a court case, but then demanded both answer questions under oath. They'd say it was a job interview. Then say it was important testimony.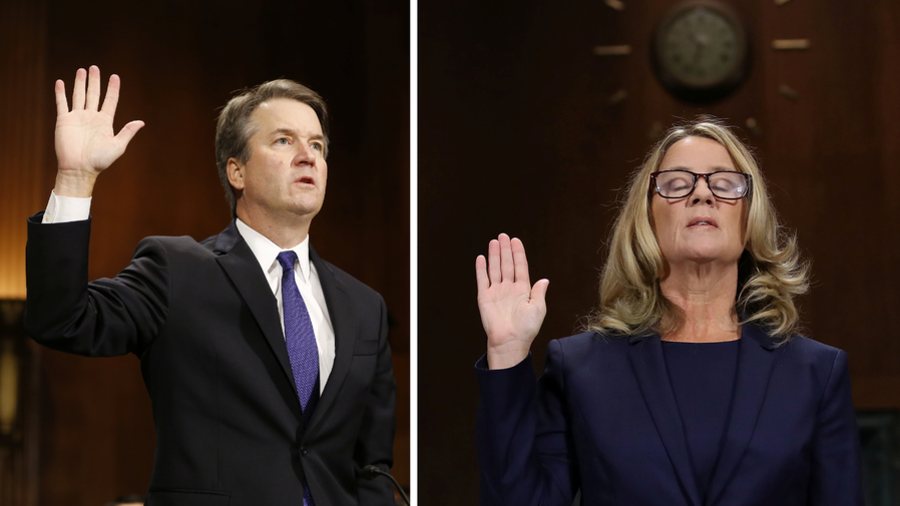 The whole thing was a complete shitshow. It was an embarrassment to both sides.
My takeaway from the whole thing was that it's possible to be telling the truth, and also be a political victim.
Ford wrote to her political party, expressing concern over the SCOTUS nomination. The Senator held onto that information, on purpose, for political gain. They leaked her name, against her wishes. They then put her in a position where she had to testify with the entire world watching. They have taken a past trauma, brought it back to the surface, and then treated it like a tequila shot and added salt and lemon to it. They have made sure that she will now NEVER be able to move past it. It will forever be written history next to her name. She will spend the rest of her life with people bringing it up. Fellow victims will want to share their stories, others will always accuse her of lying. She will never get any rest from it.
Kavanaugh will also forever be remembered for this. It doesn't matter whether he is innocent or guilty. If he didn't do it, he still won't be able to hold the job, because there's too much contention. If he's guilty, there's still so may who will protest his innocence. There are psychologists who have stated that many adolescent males go through a period where they try to assert their sexual dominance in their teens and then once they go to college sort themselves out and aren't predators. Then there are guys who are born rapey and stay rapey. I'm not sure which one he is.
I think it's important that we find out if Kavanaugh tried to rape Ford, and if he did, he needs to be punished. I don't think that a job interview is the place to do it. I don't think that a room full of opposing politicians should be the ones asking questions, and I don't think it needs to be done on live TV while the whole world is watching.
If I wake up remembering my worst day in court because of this, and reading about the millions of other women who have been triggered by watching this, I can only imagine the things that are going through the minds of the pair that are currently engaged in this battle. My heart goes out to both of them. Yes, I said BOTH of them. I feel for their spouses, their children, their friends.
Both parties have been used as political pawns.
If he is innocent, he has had his career and reputation ruined because the Democrats wanted to publicly destroy the Republican party. They could have done something about this weeks ago before he even got this far, and he could have been taken aside and charged by Maryland police. It would still have made news, and he wouldn't have gotten the job, but it wouldn't have been as spectacular for the Dems.
If she is telling the truth, she might eventually get her attacker charged, but at what cost? She has been used as a political tool. Instead of being empathetically listened to, and kept confidential like she asked, they decided to make her the face of this whole spectacle. They don't care that she is getting death threats. They don't care that she'll have to move, or might not be able to continue her career. They don't care that they made her publicly relive her worst memories. They pretend to care, but they're too happy pushing her out there, too joyful in their act at bringing down the opposition. My heart aches for her. Millions of arm chair experts are picking her apart, trying to tie her to conspiracy theories, assessing whether she's too emotional, not emotional enough, how much money she's getting, who is paying her bills, and all the other bullshit.
Politicians need to get their shit together. They need to come together and work out what they have in common, instead of what divides them. They need to go back to having a BBQ in the middle. Regular civilians need to go back to being civil. We need to remember that we're all friends and relatives, and we can have different beliefs and not be enemies. We need to go back to being able to debate and have civil discussions, and how to talk to each other, and how to listen to each other, not just put our fingers in our ears while yelling at the other side.
People need to learn how to take their bias cap off and watch something from an impartial standpoint. Learn how to put themselves in another person's shoes, and see things from another point of view. People are so in need of being right, they don't care if they're wrong. They don't care if they alienate people. They just want to live in their own bubble of confirmation bias.
It's good to step out and engage with the enemy. You might find they're not so bad. You might even find you make friends, and you no longer have to throw grenades over the fence.
The politicians will stop pandering to the extremes when people stop being out there. If the party is in the middle of the street, they'll have to find their way in there too. They'll have to start treating their constituents with respect, and not use them as political tools.
So please, be nice to each other. Look at each other as humans, not as a political party. Remember that you won't change anyone's mind insulting them or yelling at them. Grab a beer, have a conversation, and don't try to rape anyone.