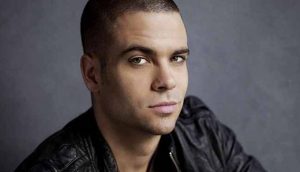 Mark Salling, an actor best known as Noah "Puck" Puckerman from "Glee" has been indicted on Child Pornography charges.
Salling was the subject of a Los Angeles Police Department investigation in December of 2015. He was arrested on state charges in connection with possessing child pornography. He was released on $20,000 bail. He had thousands of images and videos depicting child pornography. The 33-year-old was named in a two-count indictment, according to the U.S. attorney's office in Los Angeles. He is expected to surrender and be arraigned on the charges on June 3, 2016.
It's been a busy week covering Hollywood abuse. Last week, Elijah Wood discussed that Hollywood had a major pedophilia problem, and once again Corey Feldman was asked about his experiences, and how he and Corey Haim were both molested by Hollywood moguls. Only a week before, Woody Allen was again being questioned by Ronan and the press over the allegations he molested his daughter Dylan and his now wife Soon Yi. Bill Cosby is also finally seeing the inside of a courtroom after more than 40 women spoke of being drugged and raped by him.
What surprises me is that every time the news covers Hollywood sexual perversions, it's written about like it's the first time that anyone has said anything about it. I don't know how many times people need to speak up before it's understood that Hollywood does indeed have a problem with sexual predators. Pedophiles are everywhere, there's no reason Hollywood would be immune. In fact, Hollywood is the dream location of many sexual deviants. It's a hot bed of beautiful young people who are easily manipulated while trying to fulfill a dream. Producers, Directors, casting agents, etc are all in high power positions to groom and take advantage of young actors and models who are naive and hungry.
Maybe with so many cases in the press these last two weeks, people will finally understand that the entertainment industry isn't just immune from sexual assault, but is actually a breeding ground for it. Hopefully people don't act surprised when a celebrity is accused of sexual indecency. Maybe people will actually start to listen to victims when they come forward, instead of just dismissing them as being money grubbers, looking for fame and fortune.
While I think it's sad that all these cases are coming up, because it means there's so many victims, I'm also thrilled that we're seeing so many cases, because it means that people are finally feeling like they're able to speak up. Abusers use silence. They cultivate it, and demand it from their victims. It's how they get away with it, and how they get more victims. If we all start speaking up, they can no longer hide. We need to tell kids that it's OK to speak up, and maybe these pedo's will think twice before they abuse someone, knowing they might not get away with it.
Pedophilia in Hollywood is a problem. Pretending it doesn't happen isn't going to make it go away. Victim blaming isn't going to help either. We need to start empowering kids. We can also help by letting Hollywood know we won't support Hollywood pedophiles, by choosing not to watch movies or films that these predators make. If enough of us stand up and say No! they might have to finally listen. If you really want to help, we can try to change laws by getting rid of the statute of limitations. Then if people find their voice, even if it is 10-20 years later, their abusers can still be held accountable, instead of silencing their victims once again with threats of suing for slander or defamation of character.
Hopefully this is the beginning of the end for sexual abuse in the entertainment industry.