The Ranch in Stockdale, Texas
It's finally cooling off here in Texas. Today I actually needed a sweater when I got up. I love this time of year. It's cool enough to go outdoors and actually do stuff. Most people like Spring, because of the same reason, but I have such wicked allergies in Springtime in Texas, that all I want to do is leave, so I guess Autumn is my favourite season here.
Matt's parents bought a ranch in Stockdale, Texas when he was a kid as an investment for his college fund. He didn't use it, so they still have the ranch. It's just over 100 acres, about 40 minutes away from our house. I love it out there because it's all red dirt and reminds me of the Australian outback. The only difference is all the cactus and oil wells.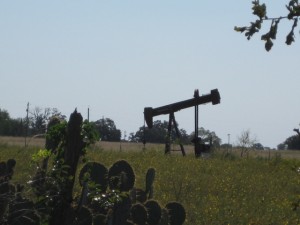 We've spent the last couple of months cleaning up the ranch so we can actually go camping out there. It's primitive camping. No water or electricity. However, Matt had them run a meter a couple of weeks ago, so we've now got  electricity. We also rigged up a water tank. Matt had one of his old jet ski trailers laying around, so he put a 120 gallon water tank on it to take with us. We went to the RV store, got a small pump, attached a shower hose, and now we've got an outdoor shower!
Last weekend was the first time we actually went and camped down there. We had a 24ft enclosed trailer with AC which we put all our stuff in; food, chairs, the 4 wheeler and then we took tents to sleep in. Matt invited the folks from the Jeep Club to come on down too. A few people turned up the second day we were down there.
The first night I set up the tent, Matt assured me we didn't need the fly. It was going to be cool, and we weren't expecting rain. The tent had just mesh on top, so you could lay there and look at the stars. Towards the morning, he kept poking me because he thought I was farting. (I do that in my sleep) But, it wasn't me. It was the condensation and the dew on the inside of the tent plopping on the tent floor. The second night he let me put up
the fly. The first night he was also worried because we rent the ranch out to a guy with cattle, and thoughout the night we kept hearing the cows mooing getting louder and louder. At one point, Matt got up and moved the jeep closer to the tent so it was blocking the path between the tress, the trailer and us. When I got up in the morning to go find a tree,  I was surrounded by cows getting closer as the were curious while I popped a squat. Better than rattlesnakes I guess….
Maya loves going down to the ranch with us. She gets so excited when she sees us packing to go anywhere, and anytime while down there we go 4 wheeling, she runs up to the jeep wanting to go with. You'd think she'd hate it because she gets bounced all over the place, but she loves it. She also loves the ranch because we let her run free. Everywhere else we keep her on a leash and she loves all the news smells out there. At night we keep her close though since we're worried about her getting taking by a coyote. Hawks are always a danger during the day, so if we see any circling, we keep her in sight.
The first few times we took her down there I was worried about her running off, but now she just seems to follow us around and really doesn't wander off too far. It's funny watching her try to get into the tent during the day. She likes to sleep in comfy places, so we have a bed for her in the trailer too, but she prefers the air mattress… She's such a little snob. At night I bring her bed into the tent, but then daddy lets her crawl in under the covers with us. He likes her keeping his feet warm as much as she likes to be close to us.
So the whole weekend turned out pretty nice. It was Columbus Day weekend, and Matt had taken Friday off, so we got in 3 days down there. We though about spending Sunday night too, but we both had to be to work early, so we came home Sunday afternoon to get everything cleaned up. Now that it's all set up, I think we'll be spending a lot more time down there. We've already organised a big trip for Matt's birthday weekend in December. By then,
most of the insects should be gone, it will be nice and cool out and watching the stars by the fire will be awesome. Living in the city, we don't see many stars, but out at the ranch, you can see the entire milky way and so many shooting stars and meteors. One of the other jeepers brought his kids down just to see the stars. It was pretty awesome.
So, now I'm looking forward to the next couple months. We're heading on a train trip with Matt's parents up north of Austin next weekend. The Hill Country in Fall in supposed to be beautiful. Then, back down to the ranch.
The best thing about heading out to the wilderness is getting back to nature. No TV, no internet, no noisy neighbours and seeing a million stars. It also makes you appreciate the little things in life when you get back home again. Like indoor plumbing.