This page is just a random assortment of stuff I've done over the years. No particular order, or preference. Just a collection of clips.
Check out my YouTube channel for all kinds of stuff. Some of it is old acting stuff, and then there's a bunch of stupid stuff I made myself. Like this:
Between the pilot for Hey Dad..! and the first series, I spent a few weeks filming for Sons and Daughters.
I played Cassie Hunt, the daughter of Gordon Hamilton's housekeeper.
In real life, I hated the show. I remember I didn't want to be on there, but my dad convinced me it would be ok.
Here's one of my scenes below, and  you can see more at YouTube by hitting on the related videos. It's funny looking back at all the terrible haircuts!
And here's a bit from Home and Away. It's back in the golden years with Kate Ritchie, Isla Fisher and Melissa George… I did 3 episodes as Heather, who was a foster kid, who managed to piss off ALL the kids. I kissed a boy, I did my own stunts hanging out a window, and we did location shoots. It was all very exciting after all those years of weekly rehearsals and live audiences. 
Here's some other stuff I've done. Most of it is low/no budget stuff I did when I first moved over to the US, just because I had time to kill and thought it would be fun to do some Indie stuff.
Trust me, working on Indie stuff is way overrated….  My hair looks completely different in the second scene since we re-filmed this one over a year later, in 100'F heat…. The guy filming didn't bother to provide water or anything. 
Back when I was starting Going Down, we went to the Aussie BBQ in Austin, TX and filmed at some cool places like Oceancorp in Houston, and filmed the Wreck Racing League in Florida. 
There's more of these kinds of videos at the Shrimptank FB page.
I also did some stuff for a weird online comic strip, called Captain Badass.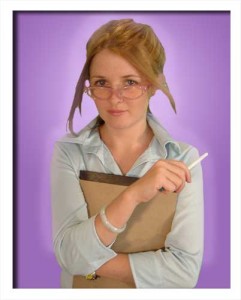 Here's an old Cadbury's commercial, with Professor Sumner Miller