Also known as the Emperor's New Clothes.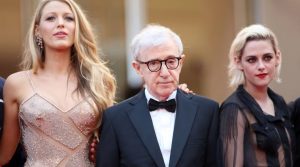 With all the media hype this week surrounding Woody Allen, what with his movie opening the prestigious Cannes Film Festival, and his (maybe) son, Ronan Farrow writing another thought piece about how entertainment types like to continue to praise Allen and ignore the allegations of abuse, or the fact that he married a child who was raised as his own daughter, I wondered why people choose to overlook his indiscretions.
For the most part, people seem to ignore Allen's creeper factor because, like Polanski, who raped a child and people kept working with, it's because he's an "artiste". I've never liked Allen's movies, and I stopped bothering to watch them a long time ago. Maybe it's because after coming home from a year in Honduras and seeing Allen's movie "Bananas" and thinking the guy had no clue, I was jaded by his later offerings. Most of his stuff has the same premise, much like his real life. Old guy, young girl, pseudo intellectualism, yadda, yadda, yadda. I've asked other people, and they tell me it's supposed to be intelligent humor, and if you don't get it, it's cause you're not smart. However, I think most of his stuff is simply seen as intellectual, and so people pretend they like it and understand it, because they don't want to be seen as not getting it. It's the whole emperor's new clothes thing. Nobody wants to point out that it's stupid, for fear of being the one pointed as being stupid. I guess actors work with Allen because of the same reason. There's some kind of street cred in having been in an Allen movie. Then again, Hollywood is a place where everyone only uses mac's because everyone else uses Mac's, and they don't want to be seen using something different, incase people think they're inferior. Same reason they all tout the same political beliefs, or even use the same stylists. They're all desperate to fit in, and don't want to rock the boat.
I don't care how much people like to pretend he's a creative genius. The fact is, a child said he molested her. He used his influence and popularity, as well as wealth to afford a team of legal and publicity people to smear the child and the mother. He then went on to take nude photos of another child that was raised as his own, (yes, I know she's not biologically his child, or that Farrow and Allen lived together, but he still raised her like his own) and then he married her. His latest interview about how he has given her opportunities she didn't have in Korea is especially uncomfortable, because he really does speak about Soon Yi the way a father would about a child, not like a man talks about his wife. "She had a very, very difficult upbringing in Korea: She was an orphan on the streets, living out of trash cans and starving as a 6-year-old. And she was picked up and put in an orphanage. And so I've been able to really make her life better. I provided her with enormous opportunities, and she has sparked to them. She's educated herself and has tons of friends and children and got a college degree and went to graduate school, and she has traveled all over with me now. She's very sophisticated and has been to all the great capitals of Europe. She has just become a different person. So the contributions I've made to her life have given me more pleasure than all my films." Another interview points out he didn't intend to marry her, he was just cheating on Farrow with her, and then it developed into an actual thing. "I started the relationship with [wife Soon-Yi Previn] and I thought it would just be a fling," Allen tells Sam Fragoso about Mia Farrow's adopted daughter, whom the filmmaker started dating while still in a relationship with Farrow." Ugh.
Whether you like Allen's films or not, or think he's an exceptional artist or not, it shouldn't stop people from asking the hard questions. Being a director doesn't mean you can get away with things a plumber couldn't. If you wouldn't refrain from questioning the local brickie who was accused of kiddly fiddling, you shouldn't stand idly by while a Hollywood person is accused of the same thing. Being famous isn't an automatic hall pass to incestuous relationships, police interviews, or even jail.
I applaud Ronan Farrow for once again speaking up. I say fuck you to all the anonymous internet trolls who rear their twitter egg heads whenever someone speaks up against abuse and types the same boring lines. "They're after money, or fame". "Why did they wait so long" etc.
Watch Allen's movies if you like, but don't try to justify his actions simply because he can make a movie. Separate the man from the job. Don't say that the press trail isn't the place to ask questions. It may be the only place he has to answer them. Don't be a part of the cycle of silence. Don't point the finger in outrage at the guy who opened the show in Cannes with a rape joke. He didn't rape anyone, he just pointed out that certain Americans directors did. (and continued to work)
I'm not saying you have to hang and quarter Allen, or judge him as guilty, but I am asking you to at least consider the possibility that he did was Dylan said he did. Have a little sympathy/empathy, whatever, and don't just sweep the allegations aside because you like his shitty movies.